Welcome to
The Maloney Gallery
fine digital prints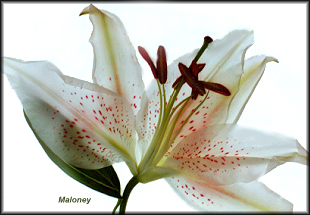 The flower photos you find here are made using
an unusual photographic technique
that involves compressing blossoms or leaves,
backlighting them, and then reproducing the images digitally.
All images are available as digital -- or giclee -- prints
via e-mail orders and in selected galleries in California.
The images here will change every few months, so feel free
to bookmark this site to savor a new show from time to time.
Meanwhile, we hope you enjoy this expedition into the essence
of the beauty of some of nature's finest little wonders.

Picture page 1
Picture page 2
Picture page 3 About the artist To order

© 2000 -- The Maloney Concern. All Rights Reserved.
...but use of images as screen-savers is strictly permitted.